Resources For International Education Programs
At ESQ Educational Services, we provide a range of services to help international educators succeed. We offer professional development opportunities, educational resources and assessment tools. 
Upcoming Events
New publication on International Education in Canada
The World's Campus: Canada is a world leader in attracting international students.
That's changing the country – for better and for worse.
By Doug Ronson
The World's Campus is an eye-opening account of how Canadians built a $22-billion international education industry, now even bigger than the country's mighty lumber sector. It's also the worrying tale of how colleges and universities have become addicted to the huge revenues provided by international student tuition to keep professors paid and buildings heated. By failing to fund our post-secondary institutions properly, we are putting their very existence at risk.
Doug Ronson, an experienced writer and international educator, gets to the heart of the issue in this well-documented and unsettling study, interviewing experts and providing thought-provoking analysis. He tells the heartbreaking stories of international students whose expectations of a prestigious Canadian education and hopes of permanent residency status are sometimes dashed.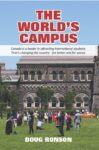 Join us for the Homestay Staff Professional Development Workshop in Vancouver on Nov. 30 and Dec. 1, 2023
Plan for recruitment, housing and student services, Join our webinar on November 2 2023. Be sure to attend!


Place your students accurately and measure their progress with the iTEP (International Test of English Proficiency)


Online host training lets programs onboard new hosts quickly and easily! Cost-effective packages save you money.


Please get in touch to learn more about our services