We are pleased to introduce this guide for host families, a companion to our popular student book. Of course, it takes two parties to have a great homestay experience so we are confident that homestay programs will want to provide each host family with a guide.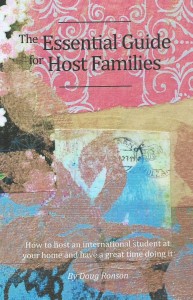 Some of the topics covered in the guide for host families include:
Helping your student deal with culture shock
Keeping your student safe around the home
Family meals
Conflict resolution
The guide is 28 pages – long enough to be comprehensive but short enough that busy families will read it.
Here's an excerpt
Ready to order? Here's the order form.